Smarter working
Find energy-smart ideas for your business
Businesses need energy to thrive, but when it comes to keeping costs down and conserving resources, working a little bit smarter can add up to substantial savings. In this section, you'll find practical advice and tips to help you get more from your business's energy supply (and spend less) including insights from companies who are enjoying the benefits already.

How one business saved £854* a year.
"I always knew we could save... but not the amount we're talking about now."
Robert Purcell, Barnstaple Bakery
Find us at an energy event near you.
Case study – Costcutter**
Putting an end to unnecessary energy use.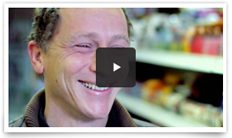 * Savings obtained from monitoring consumption data over a minimum period of 40 days and modelled over a 12-month period. Financial savings based on an estimated average p/kWh. Calculated savings are liable to differ under alternative monitoring periods.
**All information on this website applies to this independent retailer only and not to the wider Costcutter Group.
Energy at work
Simple ways to save energy and cut costs.
For specific industry insight