Choose an appointment

Review details

Current step is 3 of 3:

Confirmation
Your annual service is booked
The details of your booking are below
Your appointment

Amount Paid
Total payable: £0.00
With our appointment tracking tool you'll get regular updates on when your engineer has been assigned and when they're on the way.
We'll also send you email and SMS reminders of your appointment so you won't forget when it is.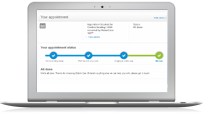 Would you like to track your appointment?
Track your appointment via your online account.
Manage your appointment online.
On the go... manage your appointment via our market leading mobile App.
You are one click away from tracking your appointment
To track your appointment you will require an online account. We'll register your details using the email address you have provided. Create a password below and start tracking your appointment online or via our mobile App today!
Sorry, we need you to look at the following areas of the form again
We're missing or don't recognise some of the information in:
(8 to 20 letters and numbers)
[1] Available to new and existing HomeCare customers only.
[2] Cancellation fees apply in the first 24 months. A fee of £150 will be charged if cancelled within the first 12 months and £70 if cancelled after 12 months but before 24 months.
If you cancel your HomeCare product and have no other products with British Gas, the price you pay for your Hive Active Heating will increase to £10 per month. If you purchase an eligible British Gas product again in the future, your price will go back down. Prices subject to change.