Green Deal
The Green Deal is a government initiative which helps meet the upfront cost of making energy saving improvements. The Green Deal enables you to obtain finance for an amount that is based on the potential savings on your energy bills from the measure(s) installed. The potential savings are calculated using a formula provided by the Government.

If you move the loan remains with the property as the new owners enjoy the energy saving improvements you installed.
All about Green Deal

Key benefits

Pay as you save – Install energy efficiency measures with payments spread over time.

Expert impartial advice – based on saving advice from a certified Green Deal Assessor.
Install with peace of mind – with Green Deal approved installations.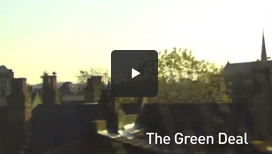 You may also be interested in

If you would like further independent advice on anything else related to Green Deal, visit the Energy Saving Trust website (www.energysavingtrust.org.uk) or call them on: 0300 123 1234 (local rates apply) in England, Wales or Northern Ireland, 0800 512 012* in Scotland.
Please see A Code of Practice setting out requirements for those acting as Green Deal Providers, Green Deal Assessors, or Green Deal Installers ("Green Deal Participants"), or Certification Bodies.

Find out more
Start your journey to a warmer, more efficient home with a Green Deal Assessment for £129.
Mon-Fri 8am-8pm, Sat 8am-4pm
Are you a Landlord or Tenant?
We do not currently offer Green Deal Finance to Landlords or Tenants, however, you can still have a Green Deal Assessment on your property, please call 0800 107 2750 to book an assessment.