Green Deal
The Green Deal is a new, government-backed initiative which helps meet the upfront cost of making energy saving improvements to your home. Expected energy savings, over the lifetime of the products, are then used to pay back the loan through your home's electricity bill.
If you move the loan remains with the property as the new owners enjoy the energy saving improvements you installed. As the 'Golden Rule' means the expected energy savings must be greater than the cost of the improvements, you should save energy and money, as well as doing your bit for the environment.
All about Green Deal

Key benefits

Pay as you save – energy savings should be greater than the cost of your improvements.
As much as £1000 cash back – for a limited number of households.*
Expert impartial advice – based on saving advice from a certified Green Deal Assessor.
Install with peace of mind – with Green Deal approved installations.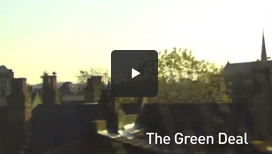 You may also be interested in

If you would like further independent advice on anything else related to Green Deal, visit the Energy Saving Trust website (www.energysavingtrust.org.uk) or call them on: 0300 123 1234 (local rates apply) in England, Wales or Northern Ireland, 0800 512 012* in Scotland.
Please see A Code of Practice setting out requirements for those acting as Green Deal Providers, Green Deal Assessors, or Green Deal Installers ("Green Deal Participants"), or Certification Bodies.

Find out more
Start your journey to a warmer, more efficient home with a Green Deal Assessment for £129.
Mon-Fri 8am-8pm, Sat 8am-4pm