Compare energy usage by city
Compare consumption of up to 5 UK cities by using the map or list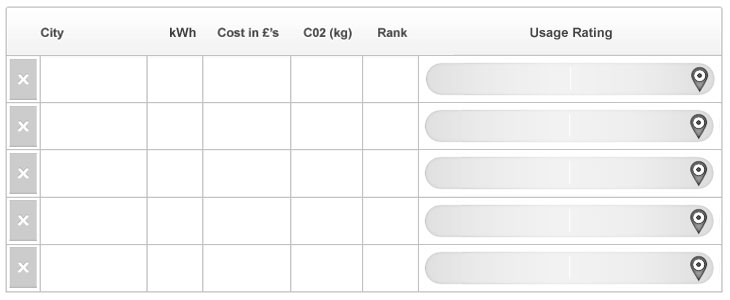 Usage Summary
Average Gas usage for 3 months
City
kWh[1]
Cost in £'s[2]
CO2 (Kg)
Rank
Usage Rating[3]
Notes
[1] Average value based on the median value of customers living in or around the city with consumption information for the last 3 full months. Sample sizes may vary depending on calendar date.
[2] Approximate consumption cost. Based on monthly Direct Debit on our standard tariff rate prices, averaged across all regions, rounded and including VAT. Calculation does not consider any tiers or standing charges.
[3] Usage rating is based on the ranking of the city.