Your account
Information message
Service update
We're currently carrying out important upgrades to improve the service we provide to our customers.
As a result some of our services for your accounts will be unavailable between 9pm Saturday 25th and 8am Sunday 26th June 2016.
Areas within Your Account:
Available

Submit a meter reading

Make a payment

Update personal details

Help & advice
Unavailable
Gas and Electricity bills

Book an engineer

Consumption graphs

Direct Debit information (including changing your payments and requesting a refund)
We apologise for any inconvenience this may cause.
Do you have an online account?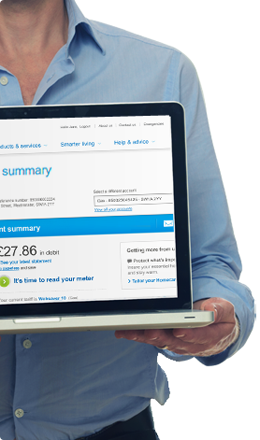 Submit meter readings
Say goodbye to estimated bills.


View, print & pay bills

All your energy bills in one place.

Compare energy usage

See how much energy you're using.


Book an engineer

Book and track your appointments.