Last updated: Tuesday 5th July 2022
Energy market news
You may have seen lots in the news about shortages of energy and increases in gas and electricity prices. Here we explain what's going on and what it means for you.
Ofgem warn against scams.
There has been an increase in the number of phishing scams offering customers a rebate on their energy bill and Council Tax. Read more to know what to look out for.
Latest news: Tuesday 5th July
Due to continuous increases in global demand, industry sources have advised a further rise in the October price cap taking the average household energy bill to approximately £3000*. This will have further impact on the cost of living, and the Government are going to be providing further support to customers, read more on this below.
*Average household estimated cost is based on a duel fuel customer paying by direct debit and using 12,000 kWh of gas and 2,900 kWh of electricity.
Here's what we know so far:
On 26th May 2022, the government announced an updated package of support. This is an improvement on the scheme originally announced in February and is intended to help domestic energy customers of all suppliers with the costs of rising electricity bills.
These are the main points of the package of new measures, worth an estimated £15 billion:
All UK households will receive a £400 discount on their electricity bills in Autumn 2022 (this replaces the original discount announced in February and will be a grant, rather than a loan)
Eight million of the lowest income families in the UK will also receive a one-off payment of £650 provided in two lump sums, one in July and in Autumn
People with disabilities will also receive a one-off payment of £150
Those who get by on a pension will also receive a one-off payment of £300
Table of contents
Will the price I pay go up
We know that this won't be welcome news. With so much uncertainty still in the energy market - and with a new price cap due to take effect in October - fixing now means you don't have to worry about price rises in the months ahead. Our current fixed tariffs are available online.
Here in this guide we explain the differences between fixed rate vs. variable rate energy tariffs to help you choose.
You'll also see an increase in your standing charges, which now cover additional industry costs - such as maintaining the supply network, greener energy commitments, as well as help for vulnerable customers. Previously, these costs had been built into the price per unit of energy.
If you're currently on a fixed rate tariff, rest assured those prices will stay the same until your tariff period comes to an end. We'll be in touch before you tariff ends to provide some new tariff options.
We understand that many of our customers will be worried about this increase, but we'll do all we can to make sure you feel supported.
We provide all the information we have about the increase to the price cap in our FAQs. We hope these will help answer your questions.
What support is the government providing?
The government recognises many households will need support to deal with rising energy costs, which are being affected by global factors. We're sharing the information below which is being provided by the Department for Business, Energy & Industrial Strategy and may be subject to change.
These are the main points of the package of new measures, worth an estimated £15 billion:
All UK households will now receive £400, as the discount on electricity bills is doubled and there is now no requirement to repay it
Low income families, people with disabilities and pensioners will also receive a one-off payments
An extra £500 million will be added to the Household Support Fund, this is administered by local councils and further information is available directly from them
Council Tax Rebate
The government has also announced assistance to households in England in Council Tax Bands A-D who will receive a £150 non-repayable Council Tax rebate. Similar arrangements will be made by the local authorities in Scotland Wales. You can check your council tax band by visiting: https://www.gov.uk/council-tax-bands
The Chancellor has announced £144 million of discretionary funding for local authorities to support those not eligible for the Council Tax rebate. If your property isn't in bands A-D, you could still be eligible for support – please check with your local council. You can find your council at https://www.gov.uk/find-local-council
When the Council Tax rebate gets paid will depend on your local council. As a rough timescale, claims for the rebate can be processed up until 30 September 2022, but it's expected councils will make payments sooner.
Be cautious of scams
Unfortunately, it's been reported that there are an increasing number of cases of fraudsters targeting vulnerable people. If someone contacts you saying they're from your council and asks you to provide your bank details, put the phone down immediately, it's a scam. Councils will never contact you directly to ask for your bank details by phone, email, or text.
Also please beware of recent energy bill rebate phishing scams - the number of these scams has been extremely high recently and we want you to know what to look out for. Scammers are sending emails and text messages to members of the public, claiming to be Ofgem, telling them that they are due a rebate on their energy bill and Council Tax, before asking them to provide their personal details including their bank account number.
Below are examples of these fraudulent messages: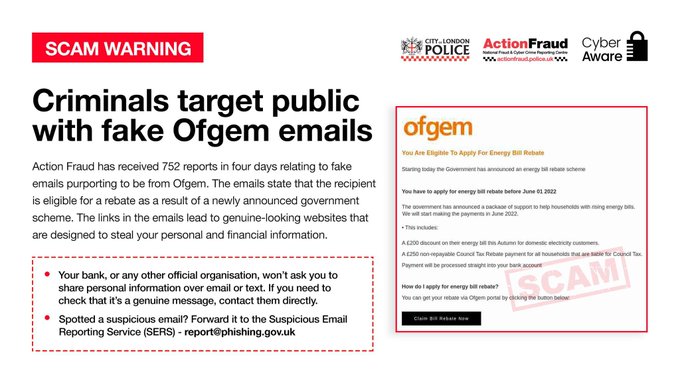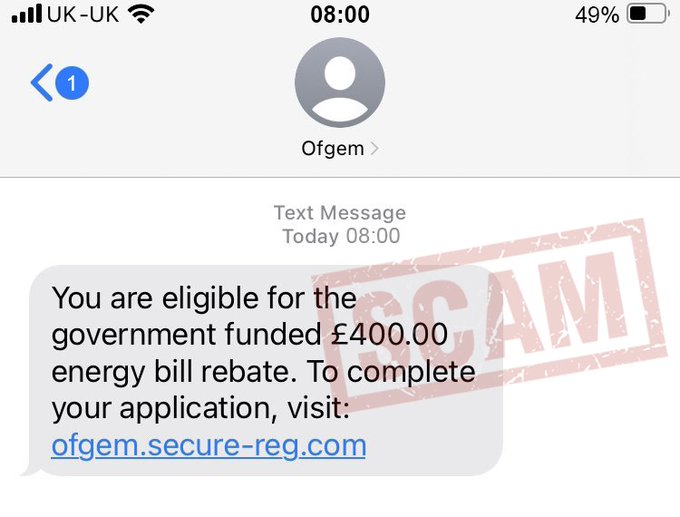 Remember organisations like Ofgem will never ask you to share your personal information or bank account details. If you receive a suspicious email please send it to report@phising.gov.uk, and if you receive a suspicious text please forward it free of charge to 7726.
Warm Home Discount extension
The government has also confirmed that it will go ahead with extending eligibility for the Warm Home Discount Scheme. This means more people will be able to apply. The payment will also increase from £140 to £150 in October 2022.
How are British Gas helping?
Helping you control your energy costs
If you pay by Direct Debit, you can review and change your direct debit payments online. With energy prices increasing, it's a good idea to check you're paying enough to cover the cost of the energy you use. We also offer some useful guides to help understand your bill and explain why Direct Debit prices may change.
Ensure you provide us with regular meter readings so that your bills are accurate and you're only paying for what you use. If you have a smart meter, there's no need to do this as readings are sent to us automatically.
Using less energy in your home is a good way to cut your energy bills. We offer lots of tips that will help with this, along with simple measures you can take to save energy.
Need support with your bills?
We don't want anyone to stop heating their homes or using power because they can't afford it. If you find yourself in difficult circumstances, we're here to help. If you're struggling to pay your bill, we can work with you on a payment plan that suits your needs.
Help if you're struggling to pay
The British Gas Energy Trust is an independently run charity, funded by British Gas. They may be able to advise you on fuel debt, point you in the direction of government grants for those struggling with energy bills or - in some circumstances - allow grants for debt relief.
Other ways to lower your energy bills
Using less energy in your homes is a good way to save on your energy bills.
We've produced a guide that explains simple measures you can take to use less energy.
10 energy saving tips
What's behind the rise in wholesale energy prices?
High demand for gas and reduced supply are behind the surge in wholesale prices. Whilst prices were at record lows as countries locked down and demand plummeted during Covid-19, the speed of change since then is unprecedented.
Countries recovered from the Covid-19 pandemic and reopened their economies, so the demand for global gas rose
Last winter was colder than usual and so was this spring, meaning that more gas was used
High demand in Asian markets, along with a reduced supply in Europe
Low winds meant less renewable electricity was generated
More reliance on gas-fired power stations
Some power plants had to be closed for regular maintenance that couldn't be completed during the Covid-19 pandemic
Wholesale UK electricity prices are the highest they've been since the market was formed in 1990. Gas prices are the highest they've been for 15 years – up 250% since January. 1
The chart below details how wholesale energy prices have increased. Remember, wholesale costs are about 35% of what makes up your total bill.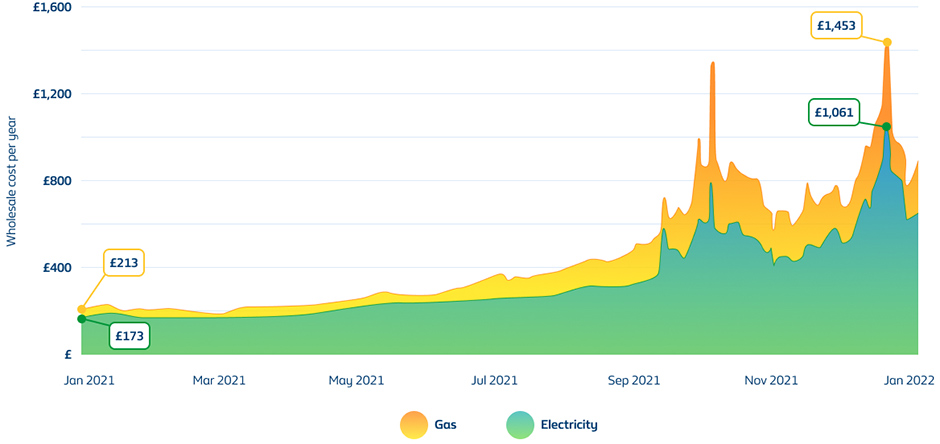 Why do wholesale energy costs affect my bills?
Domestic energy bills are linked to wholesale prices. These are the prices energy companies like us pay for the gas and electricity we supply to you. The price increase to energy unit rates and standing charges doesn't mean bigger profits for energy suppliers. In fact, this accounts for less than 1% of your energy bill. Around 60% is taken by the cost of wholesale energy (35%) that we buy from the global market, along with network costs (25%) that delivers energy to your homes. Prices also include taxes, VAT and commitments to environmental schemes. We need to cover these costs, whilst absorbing as much as we can to keep prices affordable for our customers.
Unfortunately, the rise in wholesale energy costs has been so drastic that some energy suppliers have recently been operating at a loss. That's why all energy suppliers have little choice but to increase prices in line with the Ofgem's price cap level.
The chart below is based on Ofgem infographic - bills, prices and profits and shows the breakdown of what makes up your total bills; wholesale costs, network costs, operating costs, Government levies and profits.
Access your account
If you're a customer with another supplier:
Most UK energy suppliers have raised the price of their standard variable or default gas and electricity tariffs to the latest energy price cap.
If you're on a fixed price tariff and your supplier stops trading, then your old tariff will likely end. You'll be set up on a new contract and given new prices by your new supplier, which will be higher. This is because recent price rises mean that customers, who agreed fixed prices a few months ago, are paying suppliers less for energy than it will cost the new supplier to buy the energy.
Fixed vs variable energy tariffs
If you don't know whether fixed or variable energy tariffs are best for you, our guide explains the differences to help you make an informed choice.
Why have standing charges gone up with the price cap?
What is a standing charge?
A standing charge is a fixed daily amount that we add to your energy bill - a little like line rental for a phone. On your energy bill, we'll ask you to pay a standing charge, as well as the cost of the energy you use. Even if you don't use any energy, you still pay the standing charge because it's a fixed amount that covers industry costs (see below). Unfortunately, you can't reduce this part of your bill by using less energy.
Ofgem recommended that every energy tariff includes a standing charge. That way, all energy suppliers follow the same price structure – so it's easier to compare tariffs and find what's best for you.
Why have my standing charges increased?
We understand that customers may question why their standing charges have risen. Ofgem raising its price cap means an increase to both your standing charge and your unit rates. If you're on a variable tariff, you won't be charged more than the price cap for your standing charge and unit rates combined. All energy suppliers are monitored by Ofgem to make sure they comply with this.
Standing charges cover:
Keeping your house connected to the UK energy network
Using the pipes and wires across the country that carry the energy needed to power your home
Commitments to reducing CO2 emissions to combat climate change
Government initiatives to help people unable to afford energy (like the Warm Home Discount)
How do Ofgem decide the price caps? 
Ofgem set their price caps by working out how much it costs energy suppliers like us to supply you with gas and electricity. These costs cover things like buying wholesale energy, maintaining supply pipes & wiring and operating costs.
Ofgem review their price caps twice a year. Any changes they make will take effect on 1st April and 1st October of each year.
Are all tariffs covered by the Ofgem price cap?
No. Your tariff will only be capped if you're on a standard variable or default tariff.
Safeguard Credit
Safeguard PAYG v2
Safeguard PAYG
Flexi PAYG Mar 2023
Standard PAYG
Standard Credit
Standard Variable
Welcome to British Gas
The Peoples Tariff
Welcome Together
Standard Variable HM
If you're on a fixed-price tariff, prices won't change until your tariff contract period ends. Then you can choose a new fixed tariff to ensure you're protected against future price rises. Alternatively, do nothing and you'll automatically be moved onto our Standard Variable Tariff, which changes in line with the price cap.
Want to join us?
As you might already know from the recent headlines, wholesale energy prices are incredibly high at the moment, which means fixed tariffs are also highly-priced.
We recognise that you might prefer the peace-of-mind you get with a fixed rate tariff and invite you to get a quote.
Additional information