Last updated: Wednesday 20th April 2022
Energy market news
You may have seen lots in the news about shortages of energy and increases in gas and electricity prices. Here we explain what's going on and what it means for you.
The energy price cap has increased
Wholesale energy prices have risen sharply in recent months – meaning that some UK energy suppliers are operating at a loss or going out of business. Because of this, Ofgem has made the decision to increase its price cap for gas and electricity significantly from April 1st 2022. This change has affected both the unit rates and the standing charges you pay for your energy supply.
The table below shows how rates have changed for the average household*
| | Prepayment meter | Paying by cash / cheque | Paying by direct debit |
| --- | --- | --- | --- |
| Electricity standing charge per day | £0.50p | £0.51p | £0.45p |
| Electricity unit rate per kWh | £0.28p | £0.30p | £0.28p |
| Gas standing charge per day | £0.37p | £0.32p | £0.27p |
| Gas unit rate per kWh | £0.07p | £0.08p | £0.07p |
*Rates are averages and will vary by region, payment method and meter type.
Along with all other UK energy suppliers, our tariff rates have increased
We know that this will not be welcome news. If you're on one of our variable tariffs, the prices you pay have changed in line with the price cap from April 1st.
You'll also see an increase in your standing charges, which now cover additional industry costs - such as maintaining the supply network, greener energy commitments, as well as help for vulnerable customers. Previously, these costs had been built into the price per unit of energy.
If you're currently on a fixed rate tariff, rest assured those prices will stay the same until your tariff period comes to an end. We'll be in touch before you tariff ends to provide some new tariff options.
We understand that many of our customers will be worried about this increase, but we'll do all we can to make sure you feel supported.
We provide all the information we have about the increase to the price cap in our FAQs. We hope these will help answer your questions.
Here's a quick digest of what you might have read in the news
Current global wholesale energy prices have risen due to increased demand and less availability
Some suppliers have ceased trading because they can't afford to buy energy at the current cost
All energy suppliers have increased their prices in line with Ofgem's new price cap with effect from 1st April 2022
Table of contents
What's behind the rise in wholesale energy prices?
High demand for gas and reduced supply are behind the surge in wholesale prices. Whilst prices were at record lows as countries locked down and demand plummeted during Covid-19, the speed of change since then is unprecedented.
Countries recovered from the Covid-19 pandemic and reopened their economies, so the demand for global gas rose
Last winter was colder than usual and so was this spring, meaning that more gas was used
High demand in Asian markets, along with a reduced supply in Europe
Low winds meant less renewable electricity was generated
More reliance on gas-fired power stations
Some power plants had to be closed for regular maintenance that couldn't be completed during the Covid-19 pandemic.
Wholesale UK electricity prices are the highest they've been since the market was formed in 1990. Gas prices are the highest they've been for 15 years – up 250% since January. 1
The chart below details how wholesale energy prices have increased. Remember, wholesale costs are about 35% of what makes up your total bill.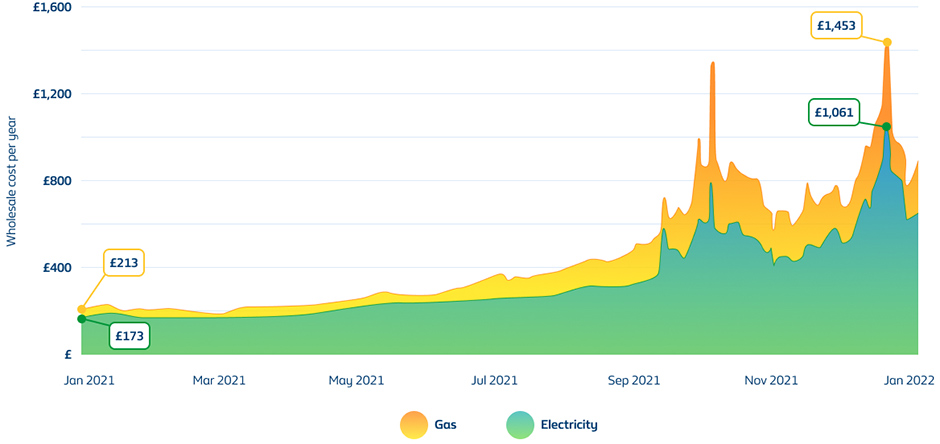 Why do wholesale energy costs affect my bills?
Domestic energy bills are linked to wholesale prices. These are the prices energy companies like us pay for the gas and electricity we supply to you. The price increase to energy unit rates and standing charges doesn't mean bigger profits for energy suppliers. In fact, this accounts for less than 1% of your energy bill. Around 60% is taken by the cost of wholesale energy (35%) that we buy from the global market, along with network costs (25%) that delivers energy to your homes. Prices also include taxes, VAT and commitments to environmental schemes. We need to cover these costs, whilst absorbing as much as we can to keep prices affordable for our customers.
Unfortunately, the rise in wholesale energy costs has been so drastic that some energy suppliers have recently been operating at a loss. That's why all energy suppliers have little choice but to increase prices in line with the Ofgem's price cap level.
The chart below is based on Ofgem infographic - bills, prices and profits and shows the breakdown of what makes up your total bills; wholesale costs, network costs, operating costs, Government levies and profits.
Have the prices I pay gone up?
It's unavoidable that they have. In a typical household, credit customers will pay £693 (excluding VAT), which amounts to an average of 54% more on their annual energy bill - working out at £58 per month. Prepayment customers will see an increase of £708 (excluding VAT) per year, or £59 per month.
The 54% figure reflects the average rise in energy costs. Other factors will have an effect too, including:
Regional location – rates may vary depending on where you are in the UK
How much energy you use and the size of the property you live in (see table below)
Whether you've recently come off a fixed term energy tariff period and onto a Standard Variable Tariff that's affected by the price cap. If so, you'll notice a sharper increase
The way you choose to pay - if you pay by fixed Direct Debit, then we use an estimate based on past meter readings, spreading that across the year to cover your annual energy consumption. Higher energy use in winter is balanced out by lower energy use in summer. With this approach you will make consistent direct debit payments throughout the year.
The below table shows a breakdown of consumption and cost by property size, taken from our guide detailing the average UK energy bill.
| Gas and electricity usage | Average annual consumption | Average annual cost* | Average monthly cost* |
| --- | --- | --- | --- |
| Low (flat or 1-bedroom house / 1-2 people) | Gas: 8,000 kWh Elec: 1,800 kWh | £1364.20 | £113.69 |
| Medium (3-bedroom house / 2-3 people) | Gas: 12,000 kWh Elec: 2,900 kWh | £1970.57 | £164.22 |
| High (5-bedroom house / 4-5 people) | Gas: 17,000 kWh Elec: 4,300 kWh | £2735.61 | £227.97 |
*Electricity unit rate 28.34p per kWh plus standing charge of 45.34p per day and gas unit rate 7.37p per kWh plus standing charge of 27.22p per day. Values might not match exactly due to rounding.
Based on Ofgem price cap rates and customer with typical usage, paying by direct debit. Rates and standing charges are averages and will vary by region, payment method and meter type. Rates are effective from 1 April 2022. Average monthly costs may vary depending on your existing account balance.
If you're already a British Gas customer:
Variable tariffs
If you're on one of these tariffs, the energy unit rates and standing charges you pay have increased in line with the rise in Ofgem's energy price cap.
Safeguard Credit
Safeguard PAYG v2
Safeguard PAYG
Flexi PAYG Mar 2023
Standard PAYG
Standard Credit
Standard Variable
Welcome to British Gas
The Peoples Tariff
Welcome Together
Standard Variable HM
If you pay by Direct Debit
We didn't increase your payment amount to help keep costs affordable for you last winter. Now our prices have risen, it would be sensible to increase your Direct Debit amount by as much as you can, so that you keep on top of the higher cost of energy. If you can do this, it will be more manageable when your Direct Debit is next reviewed, reviews occur twice a year. If you want to, you can make one-off payments or increase your regular Direct Debit to the recommended amount shown in your online account, or an amount that's suitable for you.
Access your account
If you're on a prepayment meter
The rates you pay have also risen in line with the price cap. The most noticeable difference is that you'll need to top up more often as your current average payments won't go as far.
As an example, if a £10 payment lasted a week before, it might now only last 3-4 days – so a full week's top-up will cost more
A small standing charge will also be deducted from your top-up. This charge has increased too, so please allow for this
If you've recently used your meter's Emergency Credit facility, please remember to top up enough to bring your account back into balance
Similarly, if you're paying a regular Weekly Recovery Rate to balance your account, please remember that this will be deducted from your top-up
Fixed tariffs
If you're on a fixed price tariff with us, then the price of your tariff won't change for the duration of the tariff period unless you:
choose to change your tariff
change how you pay us - for example you stop paying by Direct Debit
are affected by a change the government or regulator makes - for example, a change in the amount of VAT we must charge
We'll always give you as much notice as we can if there is a change to your price. If your fixed price tariff is due to end shortly, then please be aware your new prices will be higher than your old tariff. This is because the wholesale cost of energy is higher than what it was when you previously agreed your fixed price. Fixing again may save you money in the long term and will protect against any future price increases that may happen when Ofgem reviews the price cap in October. But remember, even the cheapest deals are a lot higher than this time last year, so prepare to pay more for now.
The change doesn't automatically impact your Direct Debit payments, but we'll continue to review them at least twice a year. You can manage your Direct Debit at any time online by visiting britishgas.co.uk/paymenthub
The table below shows when you are likely to see the price increase in your payments.
| Your payment type | Payment definition | New price effective date | Change in your payments |
| --- | --- | --- | --- |
| PAYG | Prepaid meter | 1st April 2022 | From 1st April 2022 |
| Fixed DD | Fixed and regular Direct Debit | 1st April 2022 | On/after 1st April 2022 |
| Variable DD | Paying for energy used (after bill) | 1st April 2022 | From 1st April 2022 |
| Cash/Cheque | Paying for energy used (after bill) | 1st April 2022 | From 1st April 2022 |
If you're a customer with another supplier:
Most UK energy suppliers have raised the price of their standard variable or default gas and electricity tariffs to the latest energy price cap.
If you're on a fixed price tariff and your supplier stops trading, then your old tariff will likely end. You'll be set up on a new contract and given new prices by your new supplier, which will be higher. This is because recent price rises mean that customers, who agreed fixed prices a few months ago, are paying suppliers less for energy than it will cost the new supplier to buy the energy.
Fixed vs variable energy tariffs
If you don't know whether fixed or variable energy tariffs are best for you, our guide explains the differences to help you make an informed choice.
What is the energy price cap?
The energy regulator, Ofgem sets a limit on the maximum amount suppliers like us can charge for each unit of gas and electricity you use, setting a maximum daily standing charge. These maximum charges are known as the energy price cap.
There are two types of price cap: one for default tariffs (often called standard variable tariffs) and default prepayment tariffs (also known as pay-as-you-go tariffs).
It's the price that's capped and not your bill - so your energy bill can still go up or down depending on how much gas and electricity you use. But the prices charged per unit and standing charge will never go above the energy price cap.
Why have standing charges gone up with the price cap?
What is a standing charge?
A standing charge is a fixed daily amount that we add to your energy bill - a little like line rental for a phone. On your energy bill, we'll ask you to pay a standing charge, as well as the cost of the energy you use. Even if you don't use any energy, you still pay the standing charge because it's a fixed amount that covers industry costs (see below). Unfortunately, you can't reduce this part of your bill by using less energy.
Ofgem recommended that every energy tariff includes a standing charge. That way, all energy suppliers follow the same price structure – so it's easier to compare tariffs and find what's best for you.
Why have my standing charges increased?
We understand that customers may question why their standing charges have risen. Ofgem raising its price cap means an increase to both your standing charge and your unit rates. If you're on a variable tariff, you won't be charged more than the price cap for your standing charge and unit rates combined. All energy suppliers are monitored by Ofgem to make sure they comply with this.
Standing charges cover:
Keeping your house connected to the UK energy network
Using the pipes and wires across the country that carry the energy needed to power your home
Commitments to reducing CO2 emissions to combat climate change
Government initiatives to help people unable to afford energy (like the Warm Home Discount)
How do Ofgem decide the price caps? 
Ofgem set their price caps by working out how much it costs energy suppliers like us to supply you with gas and electricity. These costs cover things like buying wholesale energy, maintaining supply pipes & wiring and operating costs.
Ofgem review their price caps twice a year. Any changes they make will take effect on 1st April and 1st October of each year.
Are all tariffs covered by the Ofgem price cap?
No. Your tariff will only be capped if you're on a standard variable or default tariff.
Safeguard Credit
Safeguard PAYG v2
Safeguard PAYG
Flexi PAYG Mar 2023
Standard PAYG
Standard Credit
Standard Variable
Welcome to British Gas
The Peoples Tariff
Welcome Together
Standard Variable HM
If you're on a fixed-price tariff, prices won't change until your tariff contract period ends. Then you can choose a new fixed tariff to ensure you're protected against future price rises. Alternatively, do nothing and you'll automatically be moved onto our Standard Variable Tariff, which changes in line with the price cap.
What support is the government providing?
The government recognises many households will need support to deal with rising energy costs, which are being affected by global factors. We're sharing the information below which is being provided by the Department for Business, Energy & Industrial Strategy and may be subject to change.
Energy Bill Discount Scheme
Here's what we know so far:
On 3rd February 2022 the government announced a package of support worth £9.1bn to help domestic energy customers of all suppliers with the costs of rising energy bills.
To spread the cost of the current energy price shock, all domestic electricity customers will see their bill reduced by £200. This will take place from October 2022. This will be paid no matter what tariff you are on, or if you have a pre-payment meter.
Customers will pay this back through domestic electricity bills over five years, starting from 2023.  This payment does not create a liability for any individual and it will not be a loan. It will be a grant which will be collected on future bills.
Neither government nor energy companies will profit from this scheme. No interest will be charged on the scheme.
The government is liaising closely with energy companies, consumer groups and charities to identify the best and most convenient method for both giving customers the payment and how the payment will be collected in future years. We are not yet in a position to advise you on the methods which will be adopted. There will additionally be the opportunity of a public consultation in the coming weeks.         
We want to reassure you that we'll work with the Government to implement the scheme in the best possible way for our customers, and will update this page when we know more.
Council Tax Rebate
As well as the £200 payment through all electricity bills, the government has also announced assistance to households in England in Council Tax Bands A-D who will receive a £150 non-repayable Council Tax rebate. Similar arrangements will be made by the local authorities in Scotland Wales. You can check your council tax band by visiting: https://www.gov.uk/council-tax-bands
The Chancellor has announced £144 million of discretionary funding for local authorities to support those not eligible for the Council Tax rebate. If your property isn't in bands A-D, you could still be eligible for support – please check with your local council. You can find your council at https://www.gov.uk/find-local-council
When the Council Tax rebate gets paid will depend on your local council. As a rough timescale, claims for the rebate can be processed up until 30 September 2022, but it's expected councils will make payments sooner.
Be cautious of scams
Unfortunately, it's been reported in the papers that fraudsters are targeting vulnerable people. If someone contacts you saying they're from your council and asks you to provide your bank details, put the phone down immediately, it's a scam. Councils will never contact you directly to ask for your bank details by phone, email, or text. 
Warm Home Discount extension
The government has also confirmed that it will go ahead with extending eligibility for the Warm Home Discount Scheme. This means more people will be able to apply. The payment will also increase from £140 to £150 in October 2022.
How are British Gas helping?
Extra help for those that are struggling
In December 2021 we invested £2 million into grants to help keep our vulnerable customers warm this winter. We've added a further £2 million to this fund. The fund will remain open until all the money invested has been awarded.
Read our blog to find out how you apply, and the other ways we can help if you're struggling to pay your bills.
We're welcoming new customers from other suppliers
Ofgem (the UK's energy regulator) has asked us to help consumers and we've stepped in as Supplier of Last Resort (SoLR) for some of the energy suppliers which have recently stopped trading.
We welcome these new customers and will do everything we can to make the switch to us as smooth as possible. If you've recently joined us from a supplier which has stopped trading, we've produced a guide to help answer your frequently asked questions. You can also contact your old supplier.
Here are the latest updates for customers joining us from other suppliers. You're in safe hands and your supply won't be affected.
Our financial position is strong
British Gas has been around for over 200 years and is trusted by millions. We're a responsible energy supplier built on a sustainable business model that gives our customers long-term security and confidence. We bought energy in advance (hedged) ready for winter, which means our prices are as fair as they can be.
We're also committed to the transition to net zero, which will change how our homes are heated and powered. Low-carbon heating solutions and more electricity generated from renewable sources will make a big difference in the future. It will mean that the UK will become less reliant on gas and so less vulnerable to changes in gas prices.
What to do if my supplier stops trading?
If your supplier stops trading, you don't need to do anything. Ofgem will automatically assign you a new supplier. We've produced a guide that explains what happens if your supplier goes bust and the measures in place to help.
To see who your new supplier is, check the Ofgem website.
If your new supplier is British Gas, we'll be in touch to welcome you as soon as possible.
Want to join us?
As you might already know from the recent headlines, wholesale energy prices are incredibly high at the moment, which means fixed tariffs are also highly-priced.
We recognise that you might prefer the peace-of-mind you get with a fixed rate tariff and invite you to get a quote.
What to do if you're struggling to pay
We don't want anyone to stop heating their homes or using power because they can't afford it. If you find yourself in difficult circumstances, we want to help. If you're with us, and are struggling to pay your bill, we can work with you on a payment plan that suits your needs.
Help if you're struggling to pay
The British Gas Energy Trust is an independently run charity, funded by British Gas. They may be able to advise you on fuel debt, point you in the direction of government grants for those struggling with energy bills or - in some circumstances - allow grants for debt relief.
Other ways to lower your energy bills
Using less energy in your homes is a good way to save on your energy bills.
We've produced a guide that explains simple measures you can take to use less energy.
10 energy saving tips
Additional information