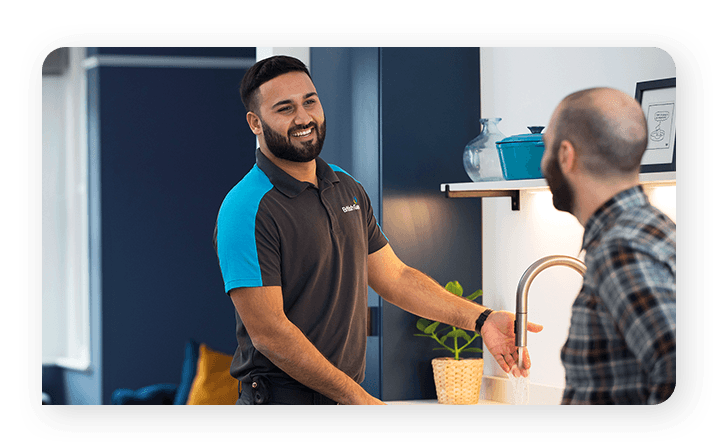 Boiler and heating repair
Why get your repair with us?
We've got thousands of gas and heating engineers across the UK, ready to fix your central heating and hot water.
Book online 24 hours a day. We're there whenever you need us whether you're a new or existing customer.
Our prices include all parts and labour (conditions apply) and are backed by a 12 month guarantee.
Frequently asked questions
What's included in my annual boiler service?
Our engineers carry out a yearly visit[1] and check to make sure your boiler and central heating are safe, and in good working order. On the visit they'll:
- Check your boiler for corrosion and leaks
- Clean its parts as required
- Remove your boiler casing to check its main components are working
- Put the casing back on and make sure it's properly sealed
- Check the gas pressure to make sure it's at the right level
- Do a flue test to check that there are no unsafe emissions coming from your boiler
At the end of the visit, our engineer will leave a checklist with you including all the relevant safety information for your boiler.
Do you fix every type of boiler?
Our engineers fix home-based combi, conventional and system boilers. We don't fix oil boilers, electric boilers or solid fuel boilers. If you have a gas boiler above 70kW (usually found in large buildings or commercial premises) or you want us to fix a boiler at your workplace visit British Gas Business.
Will your engineer fix my heating in one visit?
They'll do their best to fix your heating in one visit, but it depends what the problem is. Our engineers carry lots of parts with them in their vans, but they can't carry everything. If they don't have the part they need, they'll order it from our national distribution centre straight away. The part will usually be with them the next day. We'll always keep you up to date on how long we think it will take to fix your problem.
What if I have more than one problem?
Your quote is only for the work we've already agreed with you. We'll quote separately for other work needed for unrelated faults. This may happen if for example, you've called us about a boiler breakdown but also ask us to fix a leaking radiator.

What happens if you can't fix my problem?
If we can't fix your problem, our engineer will let you know straight away and tell you what your options are.
What if I want to cancel?
If we haven't started work on your boiler, you have a 14-day cooling-off period beginning the day we deliver any parts OR the day you accept our quote (assuming the job needs labour, but no extra parts). If you've asked us to start the work before the 14-day cooling-off period finishes, we'll charge you for the work we've already done and any parts we've installed for you. If you've gone for the repair and ongoing cover option and you want to cancel your cover, you might have to pay a cancellation charge if we've already done work under your HomeCare agreement.
Why am I getting a different price, after entering my address?
We use information about your location to tailor the price you pay for HomeCare cover. Factors such as water hardness and property type may influence claims costs, which is reflected in your price.
What should I do if I already have HomeCare?
If you already have HomeCare, you can go ahead and book your repair from your online account. You don't need to choose the repair and cover or the one-off repair options.
What should I do if I smell gas?
Call the free Gas Emergency Services line on 0800 111 999 immediately if you smell gas, think you have a gas leak, or are worried that fumes containing carbon monoxide are escaping from a gas appliance.
* Prices may vary depending on where you live. Once you have entered your postcode, we will confirm the actual price.
† The exact cost will depend on where you live and our engineer's assessment of how long it will take to complete the work.
Your services may be more than 12 months apart.

Your call out history is taken into account at renewal.

Prices available to new customers for the first year (paying by Direct Debit).