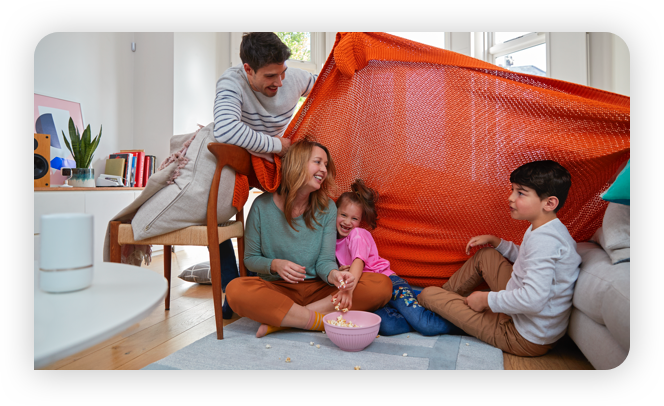 What is a smart home?
A beginner's guide to making your home smarter
What can a smart home do?
Smart home technology gives you new ways to manage your home and greater peace of mind wherever you are. From your heating, to your lights, to how you measure the amount of energy you use - smart home technology can help you save time, save money and create more time for the things that matter most.
How a smart home can help you
Effortlessly manage your home, wherever you are


Control your lights and heating with your phone - you'll never have to heat an empty home or worry if you left the iron on again


Get peace of mind when you're out and about with smart products that let you know when a door or window gets opened at home


Keep an eye on your energy use and lower your bills with smart meters



Build a smart home to suit your needs when you set up your smart products to work together
Hive - a British Gas innovation
British Gas has a 200 year history of delivering the best in home and energy services. That's why we're working with Hive – the UK's leading provider of smart home technology – to bring you a range of smart products and services that make your home life easier.
Explore the Hive smart home
Discover the ultimate Hive smart home in stunning 360° and see how Hive products can work for you.
A family of Hive products that work together, right from your fingertips
Smart home products can be used in lots of different ways and you can easily set them up to suit your needs. So, whether you want more control and convenience at home or peace of mind while you're out, there's a smart home product or service that will help.
Heating
With a smart thermostat, you can control your heating from your smartphone. You can turn your heating on or off, change the temperature or even set up heating schedules - all within Hive's app.
Hive Active Heating is a beautifully designed thermostat that works with your existing boiler. It could save you up to £130 a year[2] on your heating bill, as you'll never have to heat an empty home again.
Lights
Hive Lights let you control your lighting from your smartphone. You can change the colour of the bulbs, dim your lights or turn them on or off in one go.
Hive Lights are available in both screw and bayonet fittings, E14 bulbs and as GU10 spotlights, so it's easy to upgrade any of your existing lights at home.
Cameras
Hive View and Hive View Outdoor cameras help you protect your home inside and out.
With HD live streaming, night vision and two-way audio, you'll be able to see and talk to the people (or pets!) the cameras pick up at home, 24/7. If the cameras detect people, motion or sound while you're away from home, they'll keep you in the know with smartphone notifications.
Plugs
Hive Plugs are really handy because they let you control your appliances you plug into them, directly from your smartphone.
Our Hive Plugs are a great way to dip your toes in the water of smart home technology. Just think, you'll never have to worry you've left the iron on again!
Sensors
Hive Sensors give you peace of mind while you're away from home.
Hive Window or Door Sensors and Hive Motion Sensors let you know what's happening when you're not around, plus our leak detection and boiler function sensors help you spot problems before they get out of hand.
Hubs
It all starts with a Hive Hub. A Hive Hub is the heart of your smart home, it connects to your smart devices and helps you manage them remotely from the Hive app on your smartphone, tablet or laptop. Just connect it to your network, pair your Hive products and you're ready to go.
Hive Heating Valves
Tired of heating empty rooms? Our clever valves let you turn the radiator down in one room without affecting the rest of your home.

You can also set different schedules and temperatures for different rooms – all from your smartphone.
Hive Active Heating
Control your heating and hot water wherever you are from your smartphone, tablet or laptop and you could save up to £130 per year[1] by never having to heat an empty home.
What do you get with the Hive Active Heating?
Hive Thermostat

Hive Hub


Receiver
Hive Welcome Home Plan
You're in control with Hive products. Wherever you are, control your lighting and appliances with the touch of a button.
What do you get with the Welcome Home Plan?
1 x Hive Hub

2 x Hive Light Dimmable light bulbs

1 x Hive Plug


1 x Hive Motion Sensor
Frequently asked questions
Do you have to be a British Gas customer to be able to use Hive products and services?
No, you can buy Hive products and services regardless of who provides your energy.
What is the relationship between British Gas and Hive?
Hive are a proud member of the British Gas family and we work closely with them to help make running your home and managing your energy use easier. They have grown to become the UK's leading Smart Home provider and design Smart Home solutions that bring your home to life. Occasionally, we might send you to their website to find more detail on a product or to complete a purchase.
How do I install the Hive app on my phone?
The Hive app is available for Android and iOS users – you can download the iOS app from the iTunes App Store or download the Android app from the Google Play Store.
What are the benefits of a smart home?
Smart home technology connects your home and makes daily living that much easier to manage. Our range of products and services save you time, money and give you the flexibility you need to run your home while you're on the go.
How do Hive products work together?
Hive products are controlled via the award-winning Hive app. With Hive Actions, you can set the products up to work together, giving you a truly connected home experience.
What can I control with Hive and Alexa?
You can connect Hive Active Heating, Hive Lights and Hive Active Plugs to Amazon Alexa and make your home even smarter. Alexa can turn your heating on, turn on the lights and even turn the coffee machine on for you.
How to connect Hive to Alexa
From your Alexa app, tap 'Skills' in the menu and search for Hive. There are two Hive Skills for Alexa so for the best Alexa experience, make sure you enable both to unlock all the Hive features. Once you have enabled both skills, enter your Hive username and password and follow the onscreen instructions.
What can I control with Hive and Google Home?
You can use Google Home to control your Hive Active Lights and Hive Active Plugs.
How long does it take to install Hive products?
Hive products have been designed to ensure they can be installed easily. Please visit Hive for the individual installation guides.
Savings based on annual energy consumption of 16,489 kWh.