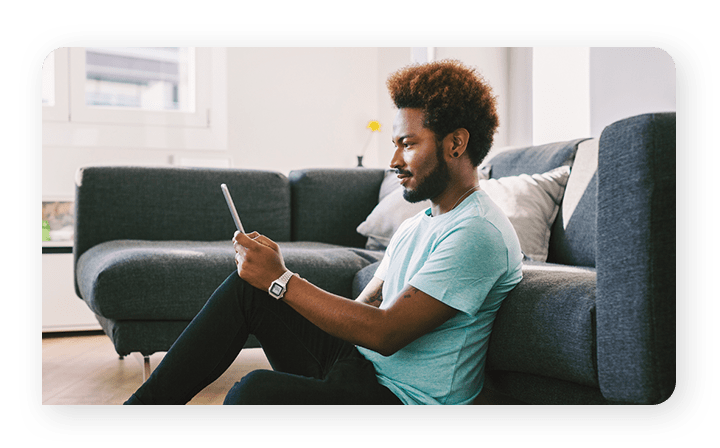 Hive Starter Pack
Get your home just how you like it with the Hive Starter Pack
Your Hive Starter Pack includes:
1 x Hive Hub The Hive Hub connects your Hive products to let you control them remotely with the Hive app wherever you are – on your smartphone, tablet or laptop. Just plug it into your broadband router and you're good to go.


2 x Hive Light Dimmable bulbs Turn your lights on so it looks like somebody's home when you're out, or set the mood without leaving the sofa.


1 x Hive Plug Worried you forgot to turn the iron off before you left the house? Get peace of mind and turn your appliances on and off from anywhere.


1 x Hive Motion Sensor Get a notification sent to your smartphone when there's movement in your home. Or link with your Hive Lights and have them turn off automatically when you walk out of the room.
Get your Hive Starter Pack
for £129 per year
Includes 1 x Hive Hub, 2 x Hive Light Dimmable bulbs, 1 x Hive Motion Sensor, 1 x Hive Plug
12 month guarantee
Already have a Hive Hub? Hive Starter Pack without a Hive Hub is available to purchase on hivehome.com
Frequently asked questions
What are the minimum technical requirements?
All Hive products require a Hive Hub to work. To use Hive products, you'll need: a domestic broadband connection with a spare Ethernet port connection; an extra power socket close to your broadband router; an Android, iOS or Amazon smartphone with an up-to-date operating system if you want to use your mobile to control your Hive products via the Hive App and an up-to-date web browser to use the online dashboard (IE10+, Chrome, Safari or Firefox).
What happens to my Hive Starter Pack if I move?
You can take all your Hive Starter Pack products with you to your new home.
What if I already have a Hive Hub?
If you already have a Hive Hub your price will be discounted at the checkout.
Can I cancel my Hive Starter Pack?
You can cancel your agreement up to 14 days after the day your Hive Starter Pack order ("cooling off period").
If you cancel your agreement within the cooling off period, you will need to return all the goods within a reasonable time.
If you cancel your agreement within 12 months of your payment plan beginning, you will have to pay the remaining balance of the payment plan for the devices. Once this fee is paid, you will lose access to the additional features and benefits of Hive Live.
Your notice of cancellation is confirmed as soon as you send it by email or call us.
If you cancel by calling us at least ten calendar days before your next payment is due to be taken, you won't be charged for the next month. If you cancel in the last ten days of the billing period, your plan will end the month after cancellation.
Hive Live has no renewal date and is ongoing until cancelled, cancellation fees apply within the first year of the contract.
Other products in our range