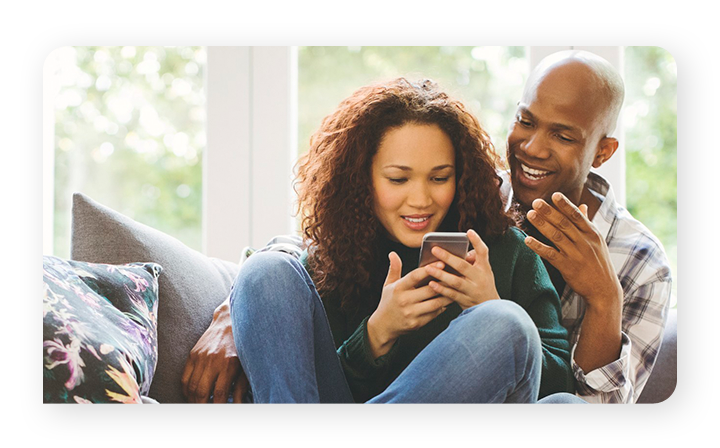 Five ways the British Gas app can help you manage your account
We want you to spend more time enjoying your home – and less time waiting in a telephone queue to pay your gas bill. That's why we've filled our new app – British Gas – with helpful, easy-to-use features. Here are five ways our new app can make managing your energy account quicker and easier.

1. It gives you quick and easy access
Trying to remember a password can be a pain – especially when you're in a hurry and need to check something quickly on your account. With the British Gas app, you can access your energy account with a four-digit PIN[1].
Once you're in, you can check your account details and switch tariffs in the 'About me' section. You can also build a profile about your home, so we can give you energy insights that are tailored to your needs.
2. It's your energy-saving app
Got a smart meter? Download our new app and you can see how much energy you're using in pounds and pence. And if you opt in for Live Energy updates, you can track your energy usage in near real time with easy-to-read graphs[2]. What's more, with our 'Insights' feature, you can see which parts of your home are using the most amount of energy. That way, you can figure out ways to save energy (and money).
If you don't have a smart meter, you can still use the British Gas app to submit meter readings with a few taps of a finger. Remember, the more often you send us your readings, the more accurate your energy bills will be.

3. It fits the bill
Let's face it: paying a bill isn't fun. But it should be quick and easy. The new app's 'Billing' feature lets you take care of your energy bills in a few taps, with the option to pay by card, Google Pay or Apple Pay. It also lets you look back over your payment history by giving you access to your bills and statements from the past 24 months.

4. It lets you book a British Gas engineer when you need one
Boiler on the blink? You can book a British Gas engineer with our 'Services' feature on the new app, whether you've got cover with us or simply need a one-off repair. You can also track the status of your appointment. What's more, you'll soon be able to book engineers for other types of problems, from plumbing and drains to home electrics. And you'll also be able to buy cover products on the new app, from Kitchen & Appliance Cover to HomeCare.

5. It's your helping app-in-hand
There's nothing worse than spending ages on the telephone when you've got a question about your account or need help with the boiler. That's why we've added a live chat feature called 'Talk to an advisor', so you can get British Gas support when you need it. We've also rolled out in-app notifications to provide you with helpful reminders about your annual services, engineer visits, bills and more[3].

Do even more online
If there's something you can't yet do on our app, chances are you can do it online at britishgas.co.uk. Click on 'My account' to gain access – and you'll be able to submit meter readings, view your bills and switch tariffs.
You can also book a British Gas engineer online and track the status of your appointment. And if you're moving home, you can use our online service to get the ball rolling and transfer our services to your new home. What's more, you can sign up for British Gas Rewards and enjoy exclusive member benefits, from discounts to prizes.
Download British Gas today
British Gas App on the App Store
British Gas App on Google Play
1. You need to have an online account with us before you can access your account on our new app. If you don't have one, register for one today.
2. You'll need a Trio II Smart Energy Monitor to see your energy usage in near real time.
3. Your annual services may be more than 12 months apart.