Explaining energy bills
We want to help explain your energy bills and show you exactly where your money goes. We also want to show you how energy bill amounts have changed over the last three years and what we are doing to help you keep bills as low as possible.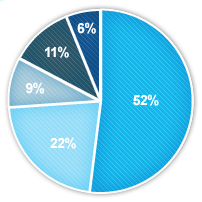 Click on the category to see
a 3 year trend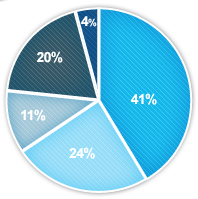 Click on the category to see
a 3 year trend



* Breakdown figures based on actual British Gas cost averages from 2009 to 2011, average annual electricity consumption of 3,890kWh, gas consumption of 14,818kWh and average regional prices. Profit figure shown is after tax.

On average, British Gas' actual bills have only risen by around 5% over the period 2009-11 once adjusted for the impact of weather.*

Gas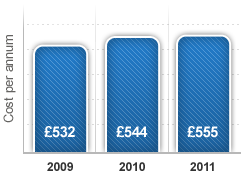 Electricity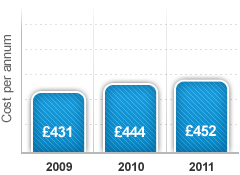 Gas bills averaged £555 and electricity bills averaged £452 for the period 2009-2011.


Despite rising wholesale fuel prices and higher government mandated social and environmental costs, British Gas' bills have remained relatively stable.


We're investing in energy efficiency and helping customers lower their consumption to prevent bills from increasing further.

* Average bill figures based on actual British Gas bill values averaged over three year periods (2007-09, 2008-10, 2009-11), using average regional prices, inclusive of VAT and adjusted for weather variance.

Energy bills in the future

As much as we would like to keep your energy bills as low as possible, looking ahead we see energy bills rising.

Here's why:
North Sea Gas supplies are running out - so we're now competing on the international market to pay for your energy supply. Today we import more than half our gas and this is set to rise to 75% in just a few years.
Britain's national grid requires a major upgrade – energy bills are being used to fund this important investment.

As a supplier we're required to pay our customers who produce their own renewable energy. In addition, more onerous Renewable Obligation requirements and the introduction of a Carbon Tax will further exert upward pressure on electricity bills.
Reducing UK's carbon emissions
All suppliers are obligated to invest in reducing Britain's carbon emissions. The current CERT scheme is being phased out and replaced with ECO in 2013 – this places a bigger focus on the more expensive forms of insulation, with the aim of maximising
the efficiency of UK homes.
We give a discount on energy bills with schemes like the Warm Home Discount to help our customers most in need of extra support.

Energy companies are responsible for the roll out of 50 million gas and electricity smart meters to customer's homes across Great Britain. We're making good progress, however we're required to pay for the new smart meters, installing it and maintaining it, as well as giving you an In-Home Display that will let you see how much energy you use. Find out more about our smart meters.

How we're helping reduce your bill
At British Gas, we're committed to help you keep your bills as low as possible.

Your bill
We have recently simplified your bill to make it easier to understand, and give you practical information on how to save energy and money.
Find out more


Your tariff
We've made our tariff range simpler to make sure you're on the best deal for your needs. Find out more


Direct Debit
Pay by Direct Debit to receive a discount each year off your energy bill and manage your plan online. Set up your Direct Debit

Home insulation
Take advantage of our free offer to insulate your home and save money and energy. Find out more

Need more help?
We've provided the answers to the most frequently asked questions asked about bills.