Take a closer look at some real examples of how we've cut costs and improved energy efficiency for businesses throughout the UK.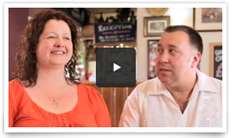 The Sydney Arms
The owners of this large, traditional pub were amazed at how much money they saved, just by updating some fixtures and changing working habits.
Barnstaple Bakery

Find out how a nine-strong team in this busy bakery saved money by becoming more energy aware and installing simple, low-cost technology.

JEB Precision

Precision-machining uses a lot of lighting – and a lot of energy. Find out how this Northwich manufacturer cut costs with a few basic updates.

Costcutter*

When you're open long hours, small energy savings all add up. Like this Southport retailer, who saved over a fifth of his annual consumption**.

British Gas offices

Meet the British Gas Green Team, and find out what happened when we took our own advice – using low or no-cost measures to save energy at work.

*All information on this website applies to this independent retailer only and not to the wider Costcutter Group.
** Savings obtained from monitoring consumption data over a minimum period of 40 days and modelled over a 12 month period. Financial savings based on an estimated average p/kWh. Calculated savings are liable to differ under alternative monitoring periods.
Get a quote
Mon-Thurs 8am-5.30pm, Fri 8am-5pm


Already had a quote from us?