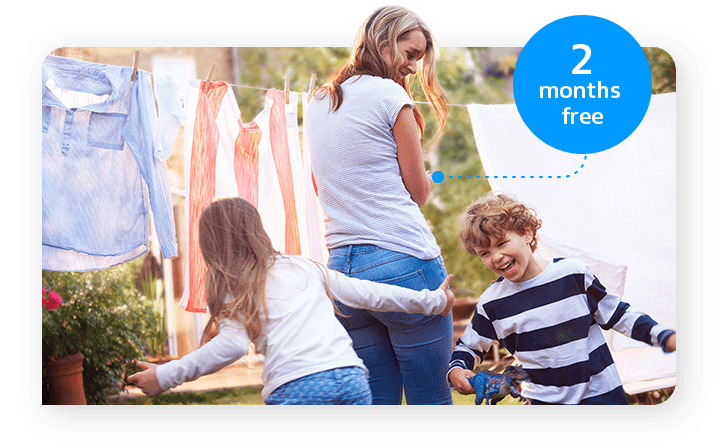 Insure your home, garden and all of the stuff that you love
Protect your home with 5* Defaqto rated buildings and contents insurance
Help keep your home and possessions protected against risks including theft and damage by fire, flooding and storms

For homeowners
Choose between combined Buildings and Contents Insurance, Buildings only or Contents only insurance. You're protected with building cover up to £1 million and up to £75,000 for all of your contents.
For renters
Look after your valuables and cover your furniture, electrical equipment, and jewellery up to £75,000 - and up to £10,000 for a single valuable item.
Optional extras
Home Assistance
Get cover for home emergency repairs up to £1,000
Accidental Damage
Protect your home when accidents happen
Personal Possessions
Keep your belongings safe and sound even when you're away from home
Legal Expenses Cover
Get your legal costs covered for you and your family up to £50,000
What do our customers say about British Gas Home Insurance?
"Quick and easy to use, with a very competitive offer" – John
"I am already a British Gas customer and have always received
excellent value and service during my time with them" – Linda
Are you a Landlord?
Get two months' FREE Landlord Insurance using offer code 2FREEW3
Frequently asked questions
What should you do if your circumstances change?
You must tell us as soon as possible about any of the following changes:
change of address;

structural alteration to your home;

if you or your family intend to let or sublet your home;

if your home is used for business purposes other than paperwork, computer work or childminding;

if you or your family intend to use your home for any reason other than private residential purposes, other than the business use outlined above;

if your home will be unoccupied;

if you or your family have been declared bankrupt or been subject to bankruptcy proceedings or have received a police caution for or been convicted of or charged with any offence other than driving offences;

if your property is no longer occupied solely by you or your family. It's very simple to change your details online in your home insurance account. There's no need to phone and you can make adjustments whenever you like.
Can you get immediate home insurance cover?
Yes, you can choose to start your policy straight away. Your policy documents are available online in your home insurance account as soon as you buy your policy.

Can you get a no claims discount on home insurance?
Yes, if you haven't made a claim and you have previously held buildings and/ or contents insurance, a discount will be included in your quote
What is the difference between buildings and contents insurance?
Buildings insurance covers the structure of your home and its outbuildings, along with any permanent fixtures and fittings like kitchen units and bathrooms. If you have a mortgage, your lender will normally insist that you have buildings insurance – however, this doesn't need to be taken out with your mortgage provider.
Contents insurance is optional but equally important. It covers your belongings inside your home like furniture, home entertainment equipment and personal items.

What do you mean by business use?
Business use is any kind of business you are running or carrying out at your home. As long as your business is 'paperwork'/ clerical only (and you don't have visitors coming into your home) or if you're a childminder we can insure your home.
Can you insure a second home?
No, we can only insure the home where you live for most of the year.
This offer is exclusive to existing British Gas customers only, who buy Home Insurance directly from British Gas

- Offer is valid for new British Gas Home Insurance customers only. Customers who are renewing an existing British Gas Home Insurance policy are not eligible
- You are not eligible to receive this policy if you purchase your British Gas Home Insurance via a price comparison website or cashback website
- This offer cannot be used in conjunction with any other offer or promotion
- If you pay monthly the last 2 months of your annual cover will be free. If you pay annually, you'll have the equivalent of 2 months deducted from your annual cover
- Your discounted quote is valid for 60 days
- British Gas reserve the right to withdraw this offer with one months' notice
- You must enter a promo code into your quote to be eligible for this offer

British Gas Home Insurance is arranged and administered by British Gas and is underwritten by a carefully selected insurer. Your policy documents will show who your insurer is. British Gas is a trading name of British Gas Services Limited which is authorised and regulated by the Financial Conduct Authority. Registered in England & Wales (Registered No.03141243).

Registered office: Millstream, Maidenhead Road, Berkshire SL4 5GD. britishgas.co.uk