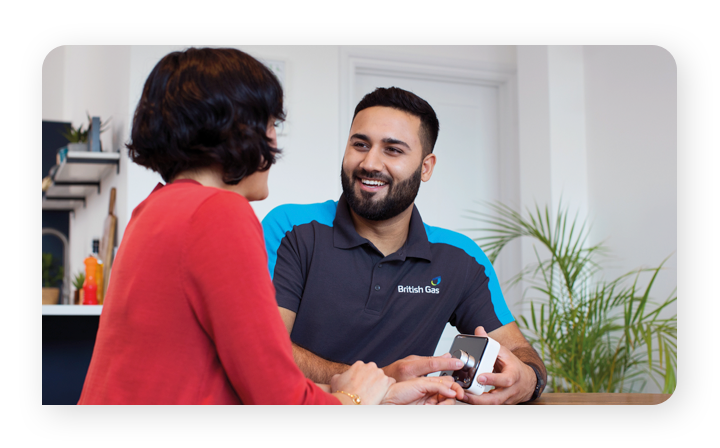 Hive, a British Gas innovation
Combining service excellence with award winning smart home products and services
Create your perfect smart home with Hive
British Gas has a 200 year history of delivering the best in home and energy services. That's why we're working with Hive – one of the UK's leading provider of smart home technology – to bring you a range of smart products and services that make daily living easier.
As Hive is part of the British Gas family, you benefit from the hands on expertise of our British Gas engineers who can fit your Hive products where needed and show you how to get the best out of them.
Our customers also get exclusive offers and discounts across the Hive range.
The best of both worlds
As part of the same family, our customers get exclusive Hive deals and great customer service:
Professional installationOur expert British Gas engineers can set up Hive for you and show you how it all works.


Best pricesOur customers get special deals on Hive products and services - check out our Smart Home pages for the latest offers.
Not sure what a smart home is?
Smart home technology makes it easier for you to manage your home on the go, wherever you are. Take a look at our beginner's guide to the smart home.
Ready to build your smart home?
The Hive Welcome Home plan is a great way to start transforming your home into a smart one. It's got everything you need to get your lighting and electric appliances just right from wherever you are.
Connect Hive with your other smart products
We know you might have a range of smart products in your home. That's why Hive products are compatible with lots of other smart products like Amazon Echo, Google Home and IFTTT (If This Then That).
Not a British Gas customer?
Don't worry, you don't need to be one of our energy & services customers to use Hive products.
Frequently asked questions
Do you have to be a British Gas customer to be able to use Hive products and services?
No, you can buy Hive products and services  regardless of who provides your energy.
Are Hive products and services free?
Hive products and services aren't free, but there are often great deals on offer for British Gas customers . Please check the Hive product and services pages for the latest prices.
How secure is smart home technology from British Gas and Hive?
British Gas and Hive have strict security measures in place to protect your personal information and access to your system, including robust procedures and using industry standard SSL encryption.