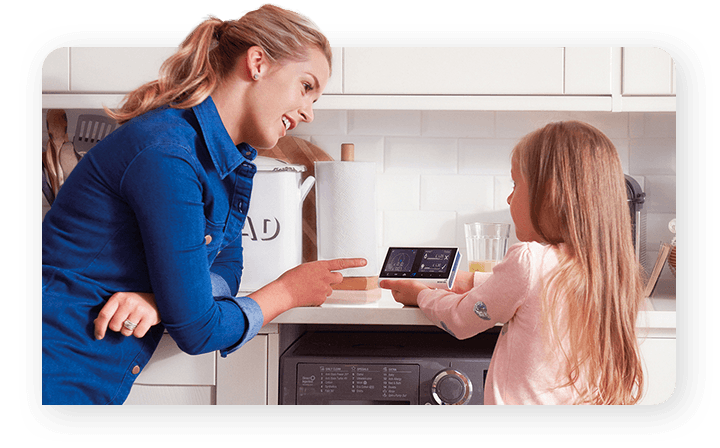 Smart meters
Millions of people are already benefitting from smart meters - Join them today

What are smart meters?
Smart meters help you keep an eye on how much energy you're using at home

They'll send us meter readings automatically - so you don't have to

They'll come with a smart energy monitor so you can see what you use in £s & pence

Our interactive online tool can show you how you're using energy[1]
And if you're a Pay As You Go customer, you can see your balance on your smart energy monitor; and top up from anywhere using our app or website, your phone or just pop into a shop

We'll install your smart meter for free 
By 2020 all of our customers will be able to claim their smart meter, and have it installed by one of our specially trained Smart Energy Experts. It's part of a national upgrade scheme to help improve energy efficiency in Great Britain. We're working with Smart Energy GB, the voice of the smart meter rollout, to help our customers understand why they should get a smart meter.
Why should you get a smart meter?

They send us your meter readings automatically so you only pay for what you use. And you can see how much you're spending on your smart energy monitor.

How do smart meters work? - Smart Energy GB
The smart meter rollout - Smart Energy GB
Find out if your home is ready for a smart meter

Between now and 2020 all customers will be able to claim their smart meters, including Pay As You Go customers.
We want all customers to have smart meters. This is why we're working as hard we can to make sure you can benefit from smart meter technology.
Check your account to find out if your home is ready for smart meters yet. If it's not quite time, we'll add you to our waiting list and give you a shout when you can get them installed.
Getting your smart meter fitted

We make it easy - check online to get our best availability, and book the appointment that's right for you.

Your Smart Energy Expert will call you when they're on their way and show you their ID when they arrive

We'll do a few checks around your home to make sure it's ready for smart meters

The appointment will last for about two hours, or just one if we're only installing one meter

We'll need to turn off your power – but not for long

Once your smart meters are fitted your Smart Energy Expert will show you how to use your smart energy monitor
Don't have energy with British Gas yet?
To get a British Gas smart meter you'll need to have your energy with us. So why should you join the British Gas family?

We'll tell you if there's a cheaper tariff
We'll drop you an email or tell you on your bill or annual statement if we have a cheaper tariff for you.

When you pay by direct debit we'll give you a discounted rate that brings your energy cost down.

Manage your energy with our new app

We've just launched a new app and it's full of great features for managing your energy account. Try it here.

We want to make switching energy nice and simple for you. That's why we've signed up to the Energy Switch Guarantee
Keep an eye on your energy use

British Gas smart meter customers have access to our interactive online tool[1] which gives you a detailed look at your energy use.
You will have the capability to:
Track your energy use by day, week, month and year.

See how you're doing compared to homes around you.

Get tips on how to save energy and money.

See how much you're likely to spend on energy for things, like cooking the Sunday roast.
Frequently asked questions
Will I get new meters for gas & electricity?
Smart meters replace your existing ones. You will also receive a smart energy monitor which can be placed anywhere in your home and communications hub, which is a small box that automatically sends meter readings to us and to the smart energy monitor.
Can I change supplier once I have smart meters?
Having smart meters does not in any way prevent customers from being able to change supplier. Your new supplier can let you know if you are able to keep your smart meters benefits so you are able to make an informed choice whether to switch to them.
Will I be on a different tariff when I get my smart meters?
No, unless you select a new tariff, your current tariff won't change when smart meters are installed.
How much will it cost?
There is no upfront cost to having smart meters installed. The cost of smart meters, just like the cost of the meters you have now or any cost of delivering energy to you, all form part of your bill.
Will smart meters save me money?
Smart meters do not in themselves save energy or money. What they will give you is near real-time understanding of how much energy they are using allowing you to take control and reduce waste. Currently British Gas customers with smart meters are saving around £30 per year due to a better understanding of their energy use.
How secure is my data?
British Gas takes the responsibility of collecting and storing the meter read data from smart meters very seriously. The smart meters we are rolling out meet very high security standards set out by the Government. Each part of the smart meter system – from the collection of readings to the communication of meter reading back to us – are protected by a very strong level of security.