Free insulation
Keep your home warm with The Energy Company Obligation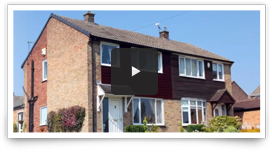 The Energy Company Obligation (ECO) is the Government target given to all large energy providers to reduce carbon emissions by improving the energy efficiency of homes in Britain. It is the largest initiative of its kind and we are doing more to support people in need in Britain than any other energy supplier.
Depending on who you are, where you live or the type of property you live in, you could be eligible for free[1] or part funded cavity or loft insulation.
Watch our videos on this page to find out more about ECO.

How do you qualify?
If you live in a certain postcode
We are providing free insulation to support people living in postcodes that need energy efficiency improvements the most.
If someone in your household is in receipt of certain benefits
This part of the scheme helps make it more affordable for people to keep their homes warm. We are providing free insulation to people who qualify and in some cases a free boiler. To be eligible under this category the private owner or tenant needs to be receiving certain state benefits such as state pension credit or child tax credit.
If your house has certain type of walls
Different properties have different types of walls and some are harder to insulate than others. We are helping customers who lives in these types of houses by installing free cavity wall insulation and in some cases free loft insulation.
You may qualify if you live in one of the following:
Three or four story town houses.

Three or more story multi purpose dwellings.
A house with no cavity wall insulation.

Homes with cavity walls that have not been eligible for free insulation in the past, are typically the right type of property.
Next steps

Check if you're eligible using our simple free insulation questionnaire.
Request a call back.
Our agents will call you and book in a free survey at a time that suits you.
We will arrange a convenient time to install your free insulation.

Benefits of Insulation
Loft insulation could save you up to £180[2] a year on your energy bills.
Cavity wall insulation could save you up to £140[2] a year on your energy bills.

It's quick and only usually takes a few hours.

Convenient and hassle free installation and we tidy up after.

Helps reduce heat loss and keep your home warm.
If you're not eligible for free insulation we have other options to help you make your home warmer
You may also be interested in

Save up to £140 a year with cavity wall insulation which is proven to reduce heat loss.
Find out more
[1] British Gas installs in mainland Great Britain only. Not all homes are suitable for insulation. Offer only applies to loft and cavity wall measures recommended by an appointed surveyor. Offer includes scaffolding and vents up to the value of £1,000 (for standard cavities) or £500 (for narrow or partially obstructed cavities), if you need more, you have the option to pay the extra. Tenants must seek landlord permission. Offer only applicable to residential properties and excludes all other properties including commercial or part commercial premises. The Offer is subject to availability and subject to change or withdrawal at any time. To be eligible, a member of the household must be on eligible benefits or live within certain geographic areas, see www.britishgas.co.uk/insulation-terms for details.

[2] Savings figure source www.energysavingtrust.org.uk/Energy-saving-assumptions. Actual savings depend on individual circumstances.