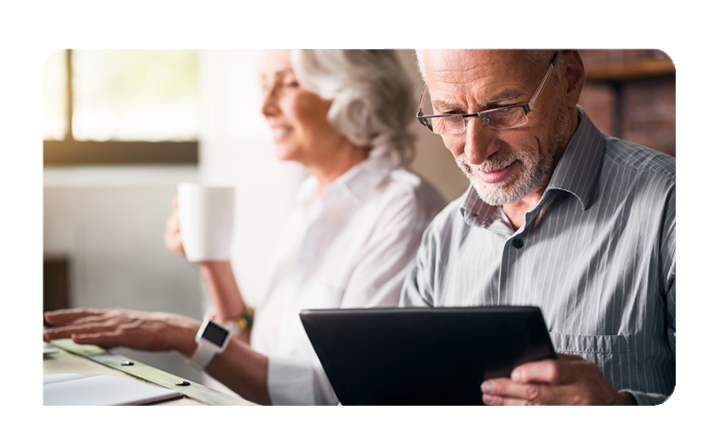 Simple steps to switching energy supplier
Switching your energy supplier
It makes sense to shop around for your gas and electricity supplier, but there's so much more than price to consider… for example, is the provider reliable? Do they have enough resources to help you when things go wrong? How much of their energy comes from renewable sources? It pays to do your research before you change your energy supplier.
But once you've found a tariff that's more suited to your energy needs, switching supplier is easy. Over a quarter of a million people a month switch their utility providers, so it's more common than you might think.
Swapping supplier is seamless. There's no interruption in your supply and no engineers need to visit your home. Your new energy company will co-ordinate almost everything – as this step-by-step guide shows.
6 steps to switching
1 Switching request
You begin the process by contacting a new provider – either online or by phone - and tell them:
The name of the tariff you want

Your address

How you'd like to pay for it
Once you've done that, your new energy supplier will work out the logistics and keep you informed at every step.
2 Confirmation
Your new supplier will contact you to confirm the details of your new tariff.
3 Old supplier contacted
Your new supplier will contact your old supplier to tell them that you're switching.
4 Switch over date
You'll be told when the switch over will happen.
5 Meter reading
On the agreed date, you'll be asked to send a meter reading to make sure the first utility bill from your new supplier is accurate.
6 Successful switch over 
Your new energy provider will let you know when you've been successfully switched over.
These six steps take place regardless of which gas and electric suppliers are involved. The switching process normally takes around three weeks from start to finish because the UK's energy providers all follow the same process and work together to make switching happen as quickly as possible.
Changing your mind
You have a cooling off period of 14 days to change your mind. If you do, get in touch with your new energy supplier and let them know.
Switching when moving home
A few extra steps are needed when you move home, but it's fairly straightforward.
Tell your energy supplier you're moving
To get your final energy bill for your old home, you'll need to give your energy supplier the date you're moving and your new address – at least 48 hours before you move.
Send a final meter reading
So that your final energy bill is accurate and your account is settled correctly, you'll need to send a final gas and/or electricity meter reading to your energy provider on the day you move out.
If you rented the property, you should also confirm your meter readings with your landlord before you hand the keys back.
It's also nice to let the new occupants know which energy company has been supplying the property. Think about leaving a friendly note or tell the landlord or estate agent.
Send first meter reading
On the day you move in, you should contact the energy company that's currently supplying the home and give them your move-in gas and electricity meter readings.
Because you won't have an account yet, you may have to do this over the phone and it's likely you'll be put on a standard tariff unless you ask for a different one.
Start comparing energy providers
If you're renting, check the terms of your lease or speak to your landlord to see if you're allowed to change energy suppliers. If you are, shop around and get a quote.
If you're not, it's worth checking you're on the best tariff and payment method for you – changing either or both can help reduce your bill.
Switching with smart meters
Your smart meters won't prevent you from switching energy suppliers – you can change suppliers just the same as you would if you had regular meters.
If you're getting a new meter as part of the change of supplier, a smart meter fitter will need to visit your home. Your new provider will arrange a date with you for the fitter to come. Don't worry, your energy supply won't be affected.
Ready to make the switch?