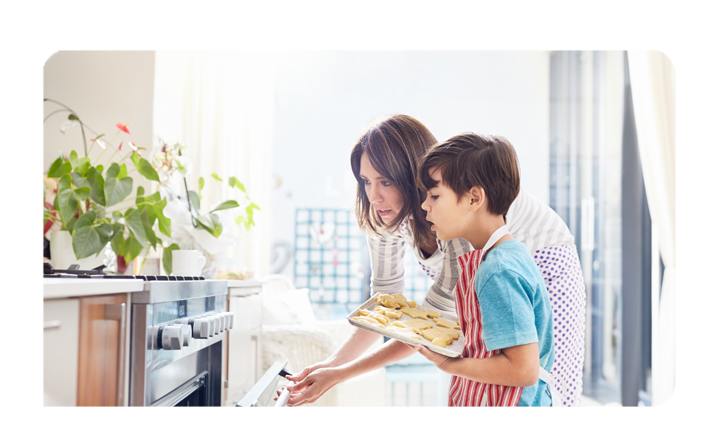 Average energy bill
What should I be using and what should I be paying?
Average energy costs
Do you know how much energy your home uses? Your gas and electricity bills will vary depending on your lifestyle, how big your home is, how many people you live with – and whether you heat your home with gas vs electricity. However, seeing how much energy the average UK home uses will give you an idea of how much your average gas and electricity bill should be.
Thinking of switching tariffs to bring down your energy bills?
How is my energy bill calculated?
There are two parts to the price you pay for your gas and electricity. Your standing charge (the fixed amount you pay per day, no matter how much energy you use) and your unit rate (the amount you pay per unit of energy, measured in kilowatt hours). Energy suppliers set their own rates for both.
Getting the measure of kWh
Your energy use is measured in kWh (kilowatt hours). To give you a rough idea, one kilowatt hour equals about the same amount of energy it would take to boil 10 kettles, run a full cycle of your washing machine, or keep your laptop powered for two days straight.
Are you a typical household?
There are a couple of things that can help you find out which Typical Domestic Consumption Values (TDCVs) category you fit into – the size of your home and the number of people you live with.  
The energy industry breaks down typical domestic customers into three broad categories –  low, medium and high.   
An example of a low energy user could be a single person or couple working full time, living in a flat or small house.  
A medium energy user could be a small family in a three-bedroom house, who work full time with children in school.  
A high energy user could be a large family of four or more people, living in a house with four or more bedrooms who spend a lot of time at home.
Average energy bills based on household type
Dig out your latest energy bills and find the bit where it tells you how many kWh you've used. Then, use the tables below to compare your gas and electricity bill with the UK average for your household type – this will tell you if your gas and electricity bills are about right, or whether you need to think about ways to cut your energy usage.   
For a more detailed result, use our energy calculator to see if your energy use is about right for your household type or if you're using too much. 
Average electric bills
Fuel prices fluctuate depending on things like where you live and the kind of tariff you're on. However, in March 2018, the Energy Saving Trust (EST) estimated that the average cost of electricity per kWh was 14.33 pence per unit. If you're looking to save a bit of money, it might make sense to switch your tariff to see if you can get a better deal.
Average gas bills
As with electricity, gas prices frequently go up and down. However, in March 2018, the Energy Saving Trust (EST) quoted the average cost of gas per kWh as 3.63 pence. Get an idea of how much gas you should be using in kWh by checking the table below.
My gas and electricity usage is higher than what's listed here. What next?
If your numbers show that you're using more energy than the average household of your size, there could be a number of reasons why. Tweaking some of your habits around the home could help you start to save. 
Switching your devices off instead of leaving them on standby could save you as much as £30 a year

Save up to £25 a year by using a washing up bowl instead of running the tap when doing the dishes

Turning off the lights when you're not in the room could save you around £15 on your annual energy bills
Work out your energy bill
Need a bit more info? Use our energy calculator to get a better idea of how much energy you should be using based on your specific type of home, heating system and family size. Bear in mind that these figures are based on people who have developed good energy saving habits!
Thinking of switching tariff to lower your average gas and electricity bills?